Bonaldo
Prora Bonaldo
Design: Mauro Lipparini
Fixed or extensible table. Frame and central base: painted steel. Top and extensions: glass (thickness: 12 mm). The base gives this table a strong character, the legs reminiscent of a ship's hull.
The base of the table and the underside of the veneered wood table top are always supplied in the same colour.
The two independent side extensions can extend the top and still maintain superb stability and sturdiness.
Advised the chair: Filly, My time, Alanda, Aria
Base finish:
Painted 
Pickled
Polished steel (profiles of the top will be in anthracite gray)
Copper bronze
Top (and extensions) finish:
Veneered wood Solid wood walnut 400
Solid wood American walnut
Solid wood with knots natural polished oak
Wood with natural edges American walnut
Glass 
Ceramic 
Dimensions:
200 x 100 x h 76 cm
220 x 100 x h 76 cm
250 x 100 x h 76 cm
300 x 100 x h 75 cm
300 x 108 x h 76 cm
240 x 120 x h 75 cm
180/280 x 100 x h 75 cm Prora extensible
220/330 x 100 x h 75 cm Prora extensible
200 x 100 x h 76 cm Special Top
220 x 100 x h 76 cm Special Top
250 x 110 x h 76 cm Special Top
300 x 120 x h 76 cm Special Top
200 x 100 x h 75 cm Octagonal
250 x 110 x h 75 cm Octagonal
300 x 120 x h 75 cm Octagonal
View video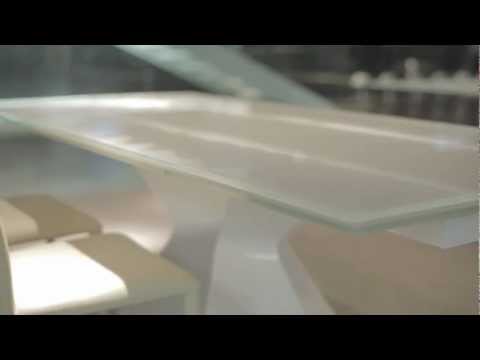 Price starting at € 2.905,00 € 3.418,00